Standard Asynchronous Dual Ports | Cypress Semiconductor
Standard Asynchronous Dual Ports
Pruned – contact Rochester Electronics for support.
Cypress is a market leader in multi-port memory solutions, offering highest performance interconnects solutions in the industry. Cypress offers a wide Product portfolio of more than 300 types of Asynchronous and Synchronous Dual Ports, Quad Ports and FullFlex Dual Ports.
We are the most Cost Competitive Dual Port solution in the market today trusted by over 2000 customers!
Interconnect Device for Multi – Processor Environment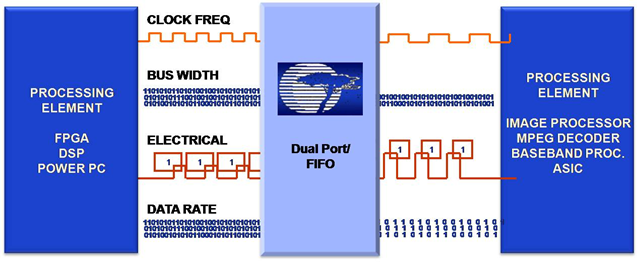 Why should you use Dual Ports?
Dual Ports have an addressable memory and provide random access to data.
Dual ports provide high bandwidth and buffering.
Dual Ports resolve Interface mismatches.
Dual Ports provide Flexible Interfaces and support for common Standards.
Advantages
Best-In-Class Speed
Synchronous - 200 MHz
Asynchronous - 10 ns
Cypress offers the Best LEAD TIME in the Industry
4-6 weeks for Standard Parts
Industry Standard Packaging Options
RoHS-Compliant (All ranges)
Low Power Dissipation
Parts available in Commercial C (0 to 70C) and Industrial I (-40 to 85C) temperature ranges across the portfolio.
FULLFLEX Dual Ports (36 Mb)
90 nm Technology node with Industry's highest densities (2 Mb to 36 Mb).
Continuous Innovation - FULLFLEX Family:


Variable Impedance Matching – Space and Cost Savings.
Echo Clocks – Gains in Board Timing.
Collision detection - Busy Flag, Fixed Delay.

1.8V Core Voltage power supply
Selectable pipelined or flow-through mode
Flexible Interfaces


PORT INDEPENDENT CLOCK SOURCE
I/O STANDARDS: 3.3V LVTTL, 2.5V/1.8V LVCMOS, AND 1.4V-1.9V EHSTL
BUS WIDTHS: X72, X36, X18.