Packaging | Cypress Semiconductor
Pb-Free Packaging
The Cypress roadmap to lead-free packages demonstrates our commitment to provide leadership in lead-free packaging. Lead (Pb) as an alloying element in solders has resulted in environmental concerns due to potential toxicity. Therefore, various legislations to ban lead are being driven worldwide.
Cypress uses nickel-palladium-gold (NiPdAu) technology for the majority of leadframe-based packages. Long-term packaging roadmaps drive NiPdAu as the preferred solution for Pb-free packages.
A high-level review of the Cypress Pb-free position is available (see Cypress RoHS Packaging Compliance letter). Specific package information is also available. Package Material Declaration Datasheets (PMDDs) identify all substances contained within Cypress packages. PMDDs also confirm the absence of many banned substances. The information in the PMDDs will help Cypress customers plan for recycling or other "end of life" requirements. PMDDs are available by selecting the Package Family, then Information Type (choose Package Materials Declaration) in the top right Packaging Information portlet.
| | | |
| --- | --- | --- |
| | | |
| Standard Plating | Pure Tin Pb-Free Plating | NiPdAu Pb-Free Plating |
Lead-Free Standard Marking Format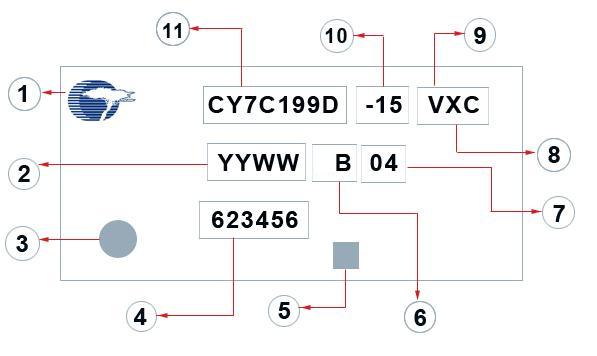 Legend:
Cypress Logo
Date Code
Pin1 Identification
Lot Code#
Lead free finish designator
Back End Part Revision
Fab Location
Grade
Package Code
Notes: a. "X" in package code indicates a lead-free product
          b. "T" suffix in package code indicates Tape & Reel packaging (applicable if product is offered in Tape & Reel)
Speed
Marketing Part #
NOTE: The above diagram is provided for illustrative purposes only. Please note that the actual marking may vary depending on package size and type.  Please contact your local sales representative if you require additional information.