Hiking and Electronics | Cypress Semiconductor
Hiking and Electronics
These days it is unbelievable the amount of electronics technology that we carry with us, even for what many think of non-technological forms of recreation.  On my hike up to Vesper Peak last weekend I started to think about the affordable electronics that I carry in my pack that didn't even exist 10 or 20 years ago.
Smart phone     $600           
GPS             $200 - $400         
Digital Camera  $500 - $1000 (depending on the camera I take)
PLB             $250 - $400              
LED Headlight   $30         
I never really added it up before, but we are talking about $2000, almost 3 lbs, and 100s of MIPs and only the Headlight counts as one of the 10 hiking essentials. So how do I justify carrying all this stuff anyway?
So let's start with the PLB (Personal Locater Beacan).  It is a one-time use device for when you get really hurt or lost.  You pull off the top, the antenna pops out and it relays you location and serial number to a satellite.  My wife "prefers" I don't hike solo without the PLB, so yes I do need it in order to hike.  The LED headlight is one of the 10 essentials so that's a no brainer.  The digital camera is a must.  It is my proof that I actually did the hike, plus my wife enjoys looking at the pictures when I return.  You may question this one, but it makes my wife happy.  If she is happy I get to hike, therefore I need the camera to hike.  GPS is just a good idea in case you get lost.  I leave it in track log mode and record my entire hike.  I can then upload the data to Google Earth and see where I have been.  So rather I need it or not, the GPS coolness factor is just too high to leave it at home.  
That leaves the smart phone (iPhone). There is seldom cell phone service where I hike so it really doesn't do me much good during the hike. I always carry a phone in the car for all the same reasons most of you do.  If I get back to the trail head late, I call the wife as soon as I am in the service area so no one (wife)  panics.  I don't really need a "smart phone" for this, but around the office, the younger engineers think you are a fuddy duddy if you don't have one.  If you use the term "fuddy duddy" it probably counter acts having the smart phone in the first place.  Since I don't leave anything of value in my car at the trail head, in the pack it goes.
So how does this all relate to PSoC?  Lets take a look at the technology in my pack and see what solutions PSoC has to enhance it.
Smart phone     -- TrueTouch on several Andriod phones and some iPods.
GPS             -- Not sure if PSoC is in any GPS devices, but we have developed software for decoding GPS sentences for a customer.
Digital Camera  -- One model of digital camera,  a PSoC1 was used to drive the image stabilizing motors.
PLB             -- PSoC1 was designed into an Eperb (Marine locater beacon) by an Australian company a few years ago.
LED Headlight   -- Power PSoC does do LED lighting, not sure if anyone has used one for a headlamp.
So you see PSoC can enhance almost any electronics that you "must" carry with you.
Well since I mentioned hiking, I know you are all dieing to see a couple pictures from my hike to Vesper Peak last Sunday.
Heading up the Wirtz basin.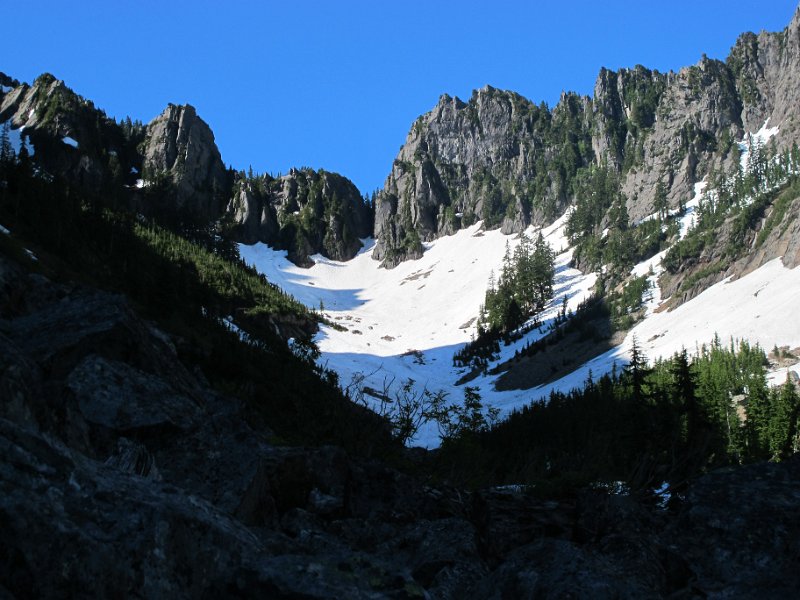 Up the narrows to Headlee Pass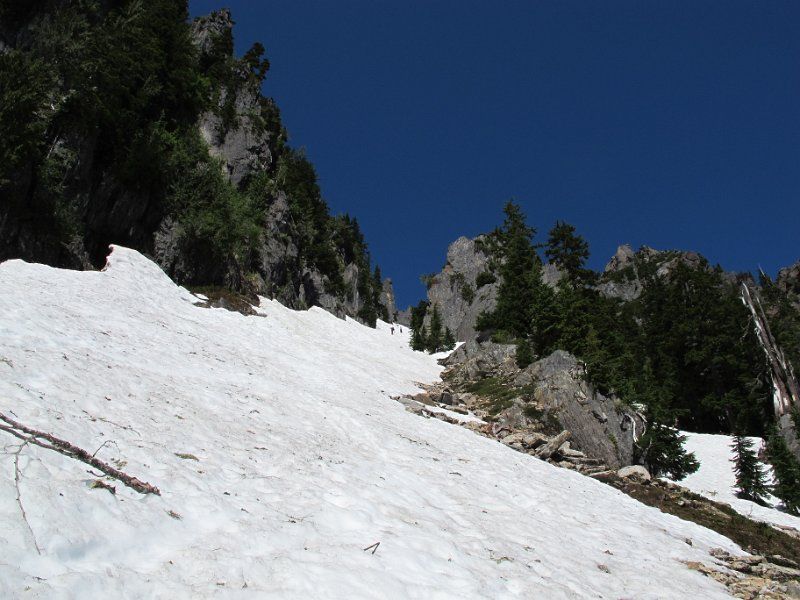 From Headlee pass just another 1500 vertical feet to the Vesper Peak Summit.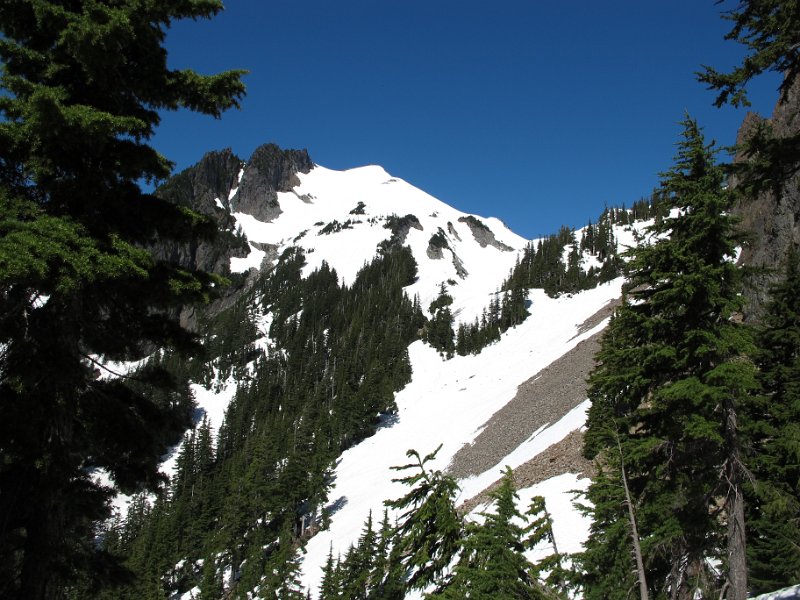 Getting closer...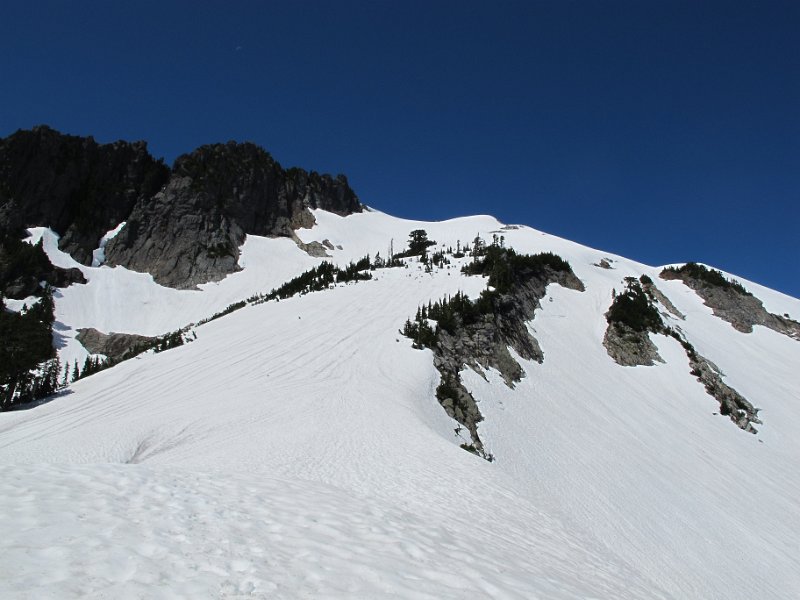 I made it.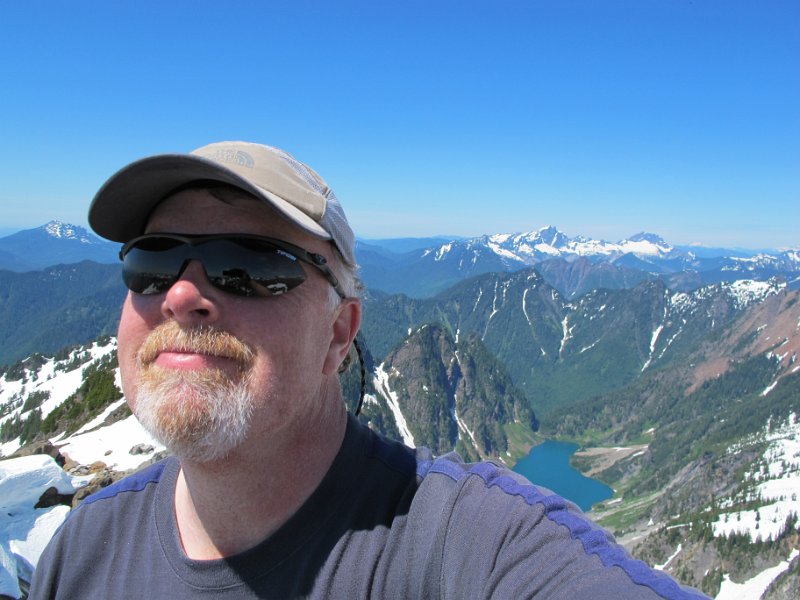 The view from the top of Vesper Peak


Now the big question, where am I going to pack all that electronics stuff around next weekend?
Mark
ALL CONTENT AND MATERIALS ON THIS SITE ARE PROVIDED "AS IS". CYPRESS SEMICONDUCTOR AND ITS RESPECTIVE SUPPLIERS MAKE NO REPRESENTATIONS ABOUT THE SUITABILITY OF THESE MATERIALS FOR ANY PURPOSE AND DISCLAIM ALL WARRANTIES AND CONDITIONS WITH REGARD TO THESE MATERIALS, INCLUDING BUT NOT LIMITED TO, ALL IMPLIED WARRANTIES AND CONDITIONS OF MERCHANTABILITY, FITNESS FOR A PARTICULAR PURPOSE, TITLE AND NON-INFRINGEMENT OF ANY THIRD PARTY INTELLECTUAL PROPERTY RIGHT. NO LICENSE, EITHER EXPRESS OR IMPLIED, BY ESTOPPEL OR OTHERWISE, IS GRANTED BY CYPRESS SEMICONDUCTOR. USE OF THE INFORMATION ON THIS SITE MAY REQUIRE A LICENSE FROM A THIRD PARTY, OR A LICENSE FROM CYPRESS SEMICONDUCTOR.
Content on this site may contain or be subject to specific guidelines or limitations on use. All postings and use of the content on this site are subject to the Terms and Conditions of the site; third parties using this content agree to abide by any limitations or guidelines and to comply with the Terms and Conditions of this site. Cypress Semiconductor and its suppliers reserve the right to make corrections, deletions, modifications, enhancements, improvements and other changes to the content and materials, its products, programs and services at any time or to move or discontinue any content, products, programs, or services without notice.