My blog where I suck up to the readers and solicit your feedback | Cypress Semiconductor
My blog where I suck up to the readers and solicit your feedback
I like my blog, I enjoy working on it and, under the right circumstances, ideas flow like blood from a shaving nick. But the real world generally imposes its ugly mug with things like work deadlines, and so my blog stales (I wondered about using "stale" as a verb, so I looked it up, and prefer definition #7  www.definitions.net/definition/stale). 
And then I saw this comic (which is covered by the Creative Commons Attribution-NonCommercial 2.5 License) and have to agree that the readers of a blog are the most important characteristic of a successful blog (who are, in the case of this blog, I must say, are very intelligent, well-read, handsome and look like they have been working out).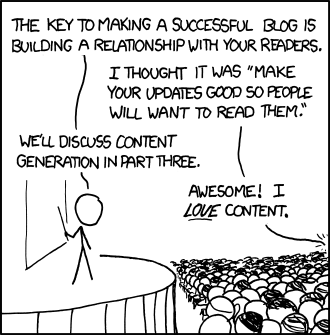 Good content updated often (see first paragraph) is essential, but what is written, often and well, also needs to appeal to the readers.
So, dear readers, here is your call to action: tell me what YOU want to see discussed in my NEXT blog. Use the following numbered suggestions with Easy-Click(TM) feedback/email links:
1) Write next blog based on Google Hot Searches (USA) selected by rolling 4 dice. If you select this option, sometime between July 30 and August 1 I will go to www.google.com/trends/hottrends armed with four regulation dice. After shaking these four dice and getting a number between 4 and 24, I will subtract 4 and the search number matching the result will be the theme/topic/seed for my next blog. 
2) Write next blog based on my daughter's suggestion. If you select this option, sometime between July 30 and August 1 I will ask my 10-year-old daughter what subject to write about. I will use the following language, "Think carefully before you answer because it's really important. What topic do you want your father to write about in his next blog post." After the answer is given, I will ask a variant of "Is that your final answer" and after that I can only ask for clarifications, not lobby for a change of mind. 
3) Write next blog based on the most popular suggested topic. If you select this option, I will take the most popular suggested topic (where I have the liberty of paraphrasing slightly similar suggestions to narrow the choices) and write my next blog around this topic.
So it's up to you. Multiple votes must indicate which is to be the "final" vote or the first received from an address will be used. The more votes the more interesting this will be. And you can expect a future blog describing this whole experience, which (since this is Cypress) will very likely include an analysis of numbers.

Happy work-week 30!
ALL CONTENT AND MATERIALS ON THIS SITE ARE PROVIDED "AS IS". CYPRESS SEMICONDUCTOR AND ITS RESPECTIVE SUPPLIERS MAKE NO REPRESENTATIONS ABOUT THE SUITABILITY OF THESE MATERIALS FOR ANY PURPOSE AND DISCLAIM ALL WARRANTIES AND CONDITIONS WITH REGARD TO THESE MATERIALS, INCLUDING BUT NOT LIMITED TO, ALL IMPLIED WARRANTIES AND CONDITIONS OF MERCHANTABILITY, FITNESS FOR A PARTICULAR PURPOSE, TITLE AND NON-INFRINGEMENT OF ANY THIRD PARTY INTELLECTUAL PROPERTY RIGHT. NO LICENSE, EITHER EXPRESS OR IMPLIED, BY ESTOPPEL OR OTHERWISE, IS GRANTED BY CYPRESS SEMICONDUCTOR. USE OF THE INFORMATION ON THIS SITE MAY REQUIRE A LICENSE FROM A THIRD PARTY, OR A LICENSE FROM CYPRESS SEMICONDUCTOR.
Content on this site may contain or be subject to specific guidelines or limitations on use. All postings and use of the content on this site are subject to the Terms and Conditions of the site; third parties using this content agree to abide by any limitations or guidelines and to comply with the Terms and Conditions of this site. Cypress Semiconductor and its suppliers reserve the right to make corrections, deletions, modifications, enhancements, improvements and other changes to the content and materials, its products, programs and services at any time or to move or discontinue any content, products, programs, or services without notice.